Stephen Barber, the book's translator and editor, will present Artaud 1937 Apocalypse. Letters from Ireland, followed by the radio work To Have Done with the Judgement of God.
In the Summer of 1937, the writer and theorist Antonin Artaud (1896–1948) made a mysterious journey from Paris to Ireland, gathering signs of a forthcoming apocalyptic event which he anticipated would place him at the forefront of catastrophic global upheavals. He wrote and published an apocalyptic prophecy, The New Revelations of Being, immediately before his departure from Paris. He travelled first to Inishmore in the remote Aran Islands, then to Galway, and finally to Dublin, where he was arrested for vagrancy and disorderly conduct, imprisoned, then deported and placed in the first of a succession of psychiatric hospitals on his arrival back in France. All that survive of his journey are a number of letters – sometimes only fragments from otherwise lost letters – along with the first in a sequence of magic spells or curses which he continued to work on during his incarceration. The letters from Ireland are collected in English here for the first time.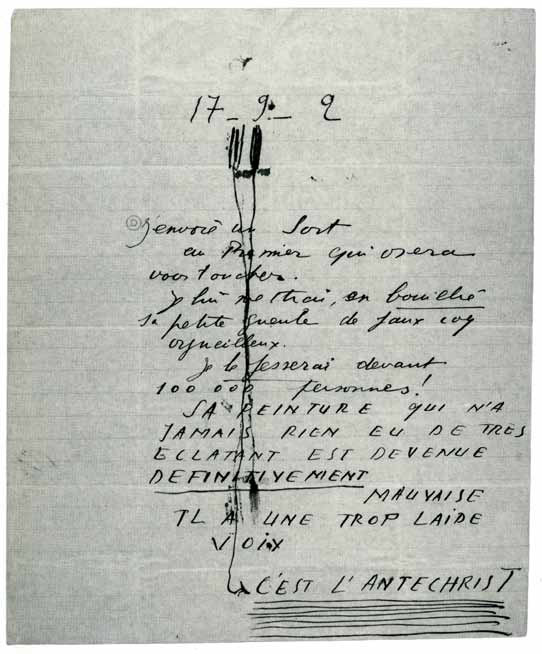 In the first part of this event, Stephen Barber will read some of his translations of Artaud's letters from Ireland. He'll also speak about the context of the letters and about his encounters in 1980s Paris with Artaud's friends, collaborators and doctors, such as Paule Thévenin and Gaston Ferdière.
The second part of the event will be a playing of Artaud's final work, his banned recording for radio, To Have Done with the Judgement of God, a work of screams, percussion and spoken texts, recorded in 1947–48, soon after his release from the final psychiatric hospital in which he was interned, and immediately before his death on 4 March 1948.
Artaud's writings and drawings are currently the subject of a exhibition at Cabinet Gallery in London, ongoing until 7 April.